Chapter Thirteen: Torn Apart
Reveal content warnings
Content warnings for this chapter:
Details of depressed thoughts, including dissociation, anhedonia, and negative self talk; self-harm; something like coercive therapy.
If you see other material that should be marked (such as common triggers or phobias), e-mail me. I am serious about web accessibility, and I will respond to your concerns as soon as I can manage.
(hide content warnings)
Time moved slowly around me, agonizingly slowly. I didn't understand what was happening. In my vision, in front of me, there was a picture of my blade sticking out of the side of her body's ribcage. That didn't make any sense. It wasn't real.
Then her scream came crashing through my mind. Suddenly, my blood was pounding through every vessel, so hard, painfully hard. Why? My body had decided to tense up and flood itself with terror. Why? I didn't understand.
My muscles pulled in all directions at once. I crashed to the floor.
It was an old, familiar feeling, my body tumbling down, getting bruises on my arms and smacking my jaw into the ground. It wrenched out a memory from deep inside me. A memory of me rolling around in the dirt, just being Rinn. A simpler time, long before I had to kill and be killed. What had happened to me?! How had I turned into a monster! No! Why did I have to think about this now?! Why did I have to fall apart right at the moment of my success?! She was dying, I had to finish her off! No! I had to get away, I couldn't –
Face down on the floor, I clawed at the stones, desperately dragging myself away from her. If I got close, if I saw where she was, I would do it again, I would draw my blades, I could feel them in my hands, I could feel myself shredding her body, it would be so right, it wasn't enough, I had to stay away, stay away from her, no matter what.
Her heavy panting filtered through to my senses. "All –" she gasped, "– all this planning, and I forgot how much pain hurts!" It was at an angle behind me. Now I knew right where she was! I could – no! I shook my head wildly, trying to forget.
I struggled to lift one arm, to crawl just one more step.
What was I doing? Why was I doing this? Who was I? I was Rinn, wasn't I? I was supposed to be Rinn. I didn't feel like I was. I AM RINN AKATURA!!! I screamed inside. It felt fake. I tried to make the words come out of my mouth. I barely managed a huff of air.
I heard her footsteps, crisp on the floor behind me. I fell forward again, my body slumping flat against the hard stones.
Her shadow loomed over my head. Her heavy hands gripped my shoulders. I tried to thrash away. Her voice echoed in my ears. "Rinn, are you in there?"
"I AM!!" I screamed. "I CAN'T HOLD ON!!!"
"You can," she said decisively. "Just keep holding on. You are real. This body is yours."
The sound of her voice helped me focus on what was real. I slid my hands over the smooth floor, I grabbed one hand in the other, just trying to feel the feel of my skin. It still felt like a distant echo. But it was a lot closer now, a lot more me.
"I'm – I'm Rinn –" the words came out of my mouth. "I can't – I –"
"Look at me," she said seriously.
"No! Please, no –"
"Trust me. It's going to be okay."
"No…" I moaned. But I knew I had to do what she said.
I felt half-asleep, like I couldn't remember how to move my arms and legs. Fumbling, I got myself half sitting up, half twisted around. She was right there, right on the corner of my eye. All I had to do was turn my head…
Pushing through a heavy resistance, I turned.
Looking at her was the most terrifying thing I'd ever done. I wanted a hundred things at the same time. I wanted to run away. I wanted to hug her. I wanted to get down on the floor and beg for forgiveness and sob into her legs. I reached out to do it all at the same time. But I was frozen in terror.
"I apologize for putting you through this," she said earnestly. "But it was the only way to wake up the part of you that was still Rinn."
My voice came out shakily. "Are you seriously… apologizing to me? I – I stabbed you. I stabbed you! I stabbed, I stabbed you!! I – no! No no no –"
"It's okay. Look, I'm okay. I took a potion, I'm already healed."
I looked at her chest, uncomprehending. There was supposed to be a wound there, but there was just… her regular, unmarked sweater. It was like nothing had even happened.
"Say my name," she said.
I opened my mouth. I knew her name, of course I knew her name. I had said her name so many times, shouting it across the schoolyard, whispering it lovingly while she held me in her arms… I had whispered – "Yali. Oh gods, Yali." The topmost part of my fear and tension drained out of me. I was back. At least halfway.
"Don't worry, we'll get you out of this layer soon. The next layer will –"
So this was me and Yali sitting together. We were just sitting here, just talking, in an intersection between two paths, just like all the intersections, a square of stone bricks, empty except for a pedestal with the map. And there was Alchemist off to the side, standing hesitantly back, like always. A few memories filtered back. It almost felt normal. Were we going to be okay, just like before? But – "But – oh gods, oh gods, oh gods, how – what –" I held out my hand, opening and closing it as if it was a strange thing that wasn't part of me. This hand had done what? Suddenly I was shivering violently, my hands tingling and tears squeezing painfully from my eyes. Yali moved in, wrapping her big arms around me. I wanted to feel like those arms were warm and reassuring. I wanted to feel like they were holding me up when I was falling down. But the cracks inside me were too deep.
And then came the pain and rage. I tried to jump up, to run at the wall and beat against it. But Yali was holding me too tightly. I struggled against her, thrashing back and forth. "LET ME GO!!" I screamed.
"I'm not going to – oof! – to let you go if you're going to – ow! – to hurt yourself!" gasped Yali, struggling to hold on.
"I DON'T CARE! LET ME GO, LET ME GO, –" I managed to jerk away from her and jump up. Blinded by rage, I slammed my fist into the stone wall with all my strength. I pulled my hand back for a second swing, and I was about to do it again when the pain hit. My hand felt like it was splitting apart. It was endless pain, meaningless and unfulfilling. Normally, the pain would fuel my anger, and the anger would give me a reason to hold on. But now, I was suddenly too exhausted to be angry. I slumped against the wall, clutching my broken hand, and sank down to the floor again, curling up in the corner and sobbing.
I was dimly aware of Yali and Alchemist sitting down around me, trying to comfort me. But I couldn't get up. I couldn't see past the pain.
It was supposed to end. There was supposed to be a point where I'd be like "okay, I'm done being upset now" and just manifest my hand back together and get on with figuring out what I needed to do next. But it wasn't happening. Even with Yali and Alchemist cuddling me from both sides, it wasn't happening.
"I can't even fix it… I can't concentrate on manifesting, I can't even picture what my hand is supposed to be like…"
"I could, maybe, make a potion?"
"Do it," said Yali.
Alchemist coaxed a potion out of the air and handed it to me. With my good hand, I drank it down. It tasted sweet and filling. As soon as it went down, my other hand was filled with warmth, wiping away the pain and massaging it back into its original shape.
"Gods, you're the best," I mumbled. I kissed Alchemist without thinking. Wait a minute, I had just kissed Alchemist when I hadn't even kissed Yali! Well, I could fix that. I turned to the other side and kissed Yali too. Yali kissed me back tenderly, then guided me towards Alchemist again. They went back and forth, kissing me in turn.
It only felt caring for a minute. "Fuck, I don't deserve this!" I whimpered. "Both of you, I shouldn't even be close to you –" I tried to pull away from them again.
Yali held on tight. "Rinn, no. You're not thinking straight –"
Panic flooded through me. I felt like I'd been sleeping while my house was on fire. How could I just be sitting around right now?! "I HAVE TO GO!" I screamed. "I CAN'T BE NEAR YOU! WHAT IF IT HAPPENS AGAIN!?"
Yali held me down. "I'll be using the Seeing regularly. If anything is going to happen, I'll know. I can take you with me all the way to the portal –"
"But it's not perfect! And you can't use it on the Farseer's Path, that'll be hours at a time that you can't use it! What if it happens in one of the futures you didn't check –"
"That's – that's not –" Yali began. But I could tell she didn't have an answer ready. And that made me even more terrified than before.
"You have to let me go!" I yelled over her. "What if – I don't want, I don't want, I'm scared –"
"I'm scared too," said Alchemist nervously. "Yali…"
"Stop," said Yali forcefully. "I need to think about this, okay?"
Yali thought about it. As she thought, her expression got darker and darker. When she finally spoke, it was stiff and cheerless. "I should have known," she said. "You're right. There's only a tiny chance that something would happen without me foreseeing it, but it's not worth risking everything for that. I should have known it wouldn't work, trying to be close to you."
"You what…? You… did you let me stab you so you could be close to me?"
Yali stared at the pedestal with the map, ignoring me. "What we'll do, what we should do, is have you go to the next layer as soon as you can. The next layer will be better. The Blood God might still try something, but at least it won't be this. For some reason, when you're under the Stern God's influence, it's not… not good…"
"Tell me something I don't know," I said dully.
"The third layer isn't always like this," she said seriously. "The Stern God is supposed to test our commitment to our own principles. Not to make us obey and sacrifice for nothing."
"Justicar," I breathed. "It's based on how Justicar sees it."
Yali wasn't really listening. "You can go straight to the exit portal," she continued. "The Stern God won't approve, but it won't stop you. We'll meet up again in the next layer. It'll be okay."
But as soon as she said that, another horrible thought screamed in my head. "But what if I don't?! What if I get to the portal and I can't make myself go through it? What if I turn back while you're on the Farseer's Path and you don't know I'm coming and I do it again?!!"
"I, I –"
"Maybe if you, used, the…" began Alchemist.
"I'm not going to use that," said Yali. "It's not needed."
"But, look how scared she is!" said Alchemist insistently.
"If she goes straight to the portal, there won't be any danger. There is no need to –"
"No need to what?" I asked.
"It doesn't matter –"
"Yes it does! It's something that could help keep you safe, isn't it?! You have to tell me!"
Yali glared at Alchemist. But, reluctantly, she explained. "I got a new power when I got to this layer. It's called the Watchful Eye, just like the symbol. It's a magic mark I can put on someone. Once I do that, I can see them constantly, no matter how far away they get, like I've got an extra set of eyes where they are."
"Do it," I said. "Stick it on me!"
"No," she said.
"YOU HAVE TO!" I yelled, grabbing her shoulders and shaking her desperately. "YOU HAVE TO, YOU HAVE TO, I DON'T WANT YOU TO DIE!!"
She caught my wrists and held me away from her. "It's not right! Watching you every minute of every day –"
"YOU ALREADY WATCH ME IN THE FUTURE –"
"It's different! Even in the future I only see what I see –"
"AND I'M ASKING YOU TO DO IT! IT'S NOT WRONG IF I –"
"You're in no state to consent to this! It's not consent if you're, if you're –"
"LIKE ANY OF THIS WAS CONSENSUAL!! I DIDN'T CONSENT TO HAVE THE BLOOD GOD IN MY HEAD! I DIDN'T CONSENT TO STABBING YOU! PLEASE! PLEASE! PLEASE! I'M BEGGING YOU!" I sobbed, straining against Yali's arms to bring my face closer to hers.
Yali went silent again. For a long moment, everything was quiet except for the sound of my struggling. Tears poured down my face. It was hopeless. Yali's face loomed cold and impenetrable in front of me. She was going to deny me again. There was nothing I could do to change it. And then it would happen again. And it would be all my fault, all my fault…
"I'm begging you," I whimpered again.
"I –" Yali was about to protest again. But then, just a little, she broke. "I guess this is what I am now," she muttered.
I melted, my arms going limp and my body slumping down. She was going to do it.
"I guess I'm doing this…" Yali moved her hand towards me uncertainly. "This, this, this will put a permanent mark on your body, like a tattoo. The Watchful Eye symbol. The magic will only work while we're in the Otherworld, but the mark will stay forever. Are you sure –"
"'course I am," I muttered. "Bit of ink on my skin for your life, are you kidding me?"
"I just thought –"
"Some choices aren't that hard."
"Okay. Okay… okay, if I'm doing this… where should I put it…?"
"…over my heart," I said. My voice came out dull but certain. "That's where I would want it." Mechanically, I tried to pull down the neck of my shirt to expose my heart. But we were all still wearing the Stern uniform, and it was too stiff. Giving up, I just pulled up the whole front. "Go on. Do it."
Yali hesitantly pressed her fingers over my heart.
It didn't feel anything like when she'd touched my heart on that first day. It was just an object touching another object. A cold and hot feeling briefly sank into my chest, then it passed. I looked down. The Watchful Eye was on me, a small, black symbol, drawn right there on my chest.
"Did it work?" I said. "What's it like?"
"It's like I can see you from all sides at once," said Yali. Her voice was distant, like she had something else on her mind. "I can see the Burning Heart on your back… And I can hear myself talk from the outside, it also lets me hear things… Yes, it's completely, completely… functional."
I pulled my shirt back down. We sat facing each other, in a troubled silence. Alchemist leaned in from the side and put their arms around my shoulders. It was comforting, but I could feel them shaking continuously. I tried to hug them back, but it didn't happen.
"Yali…" I began.
"This wasn't right," she interrupted, not quite looking at me, as if she'd already been planning to say that. "If, in the future, it becomes a problem, that I can see you like this… I'm sorry. No one should ever be able to watch someone else, in, in, things that should be private –"
"No, it's okay!"
Yali pulled herself to her feet and paced a few steps away. "…you should go."
"Already…?"
"You – both of you – it'll be worse the longer you put it off. Come here."
I stood up. Alchemist followed behind me. Yali led me to the map and pointed out a few lines on it. "You should take this route to the portal. It's the shortest way, and it has only one segment of the Blood Child's Path, which will be difficult for you now. Once you get to the next layer, I'll come find you as soon as I can. The Watchful Eye gives me a sense of your location, so I can come straight to wherever you end up."
"I… okay."
"You should go now."
"Okay."
A few steps away from Yali, Alchemist clung on to me. They clasped my hands between theirs, hesitating, reluctant to let go.
"I'm, sad, I can't come with you," they said. "Morrow…"
"Right, you'd want to go be with Morrow…"
"It's not, that… he…"
"He what?"
"He's stuck," Yali clarified, still with her back to me. "He can't make it down the Imminent's Path. I've agreed to help Alchemist help him."
I half-snorted. "Could've seen that coming."
"But you…" Alchemist leaned their face close in front of mine, their sad eyes looming large in my vision. "You'll be all alone…"
"I'll be okay," I lied, weakly pushing them away. "Go help Morrow. I don't matter."
"Oh…"
I left Alchemist standing there, alone on the bare floor, their face taut with stress.
I wanted it to be hard to walk away from them, from both of them. I wanted my heart to cling to Yali's warm body, or at least to linger softly with Alchemist. But none of it happened. It felt like all I had was a printed photo of the feelings that were supposed to be real. It felt like sand slipping between my limp fingers. I muttered a halfhearted goodbye and began my journey to the portal.

I found myself on the Imminent's Path, trying to ignore the distractions. It was almost impossible. When something brushed my neck, I whirled around to catch it, and I lost all my progress. And it kept happening. It was driving me crazy. Hadn't I done this before?
Stuck back at the beginning again, I glared at the path in front of me. How had I done it so easily before? It was a struggle to remember. I felt like there was a thick haze over all my memories of… before I got back. But I dug it out. To get through the Imminent's Path, I had… I had deadened my senses, blocking out everything.
My mind recoiled against that. The part of me that was Rinn recoiled against that. I would NOT abandon my own feelings like that! Never again! But I had to get through this somehow! For Yali! I had a DUTY, it was what I had to do, what I must do –
No. That talk of duty, that was the Stern God still inside me. There was no way I was going to put up with the Stern kicking me around anymore. I gathered the fragments of my rage. I, Rinn, might still be in a weakened state, but I was at least strong enough to kick out something that wasn't even supposed to be here. I unleashed a burst of rage, driving the Stern God's thoughts out of every corner, barring the doors of my mind against its intrusion.
I glared at the path again. That felt a little better. Now it was just me in here, like it should be. Well, me and the Blood God. Now, I could use my pride. I could walk the Imminent's Path, sure of myself and what I was doing, ignoring every distraction because I knew they were no threat to me. I didn't have to give such things a place in my heart –
"No!" I raged aloud. "Not you either, Blood! You tried to kill Yali, you monster! I don't care if it screws me over, I am not doing things your way!! I'm not!!"
I was going to do this the Rinn way or not at all. But what would the Rinn way even be? The frustration was so overwhelming it felt like it was crashing my skull. I couldn't think, I couldn't feel anything else. Right now, that was the only thing that Rinn was.
So that was what I used.
I stomped down the path, answering every new sensation with a surge of hatred, of bitterness for everything around me. In my mind, I smashed down the walls and pounded the stones into dust. I imagined tearing off fistfuls of the Stern God's soul and plunging them into a sea of acid. I yelled and yelled at myself, trying to make myself believe that I was in control, that no one could overrule Rinn Akatura.
But no matter how hard I tried, it just echoed around my brain, none of it sinking in.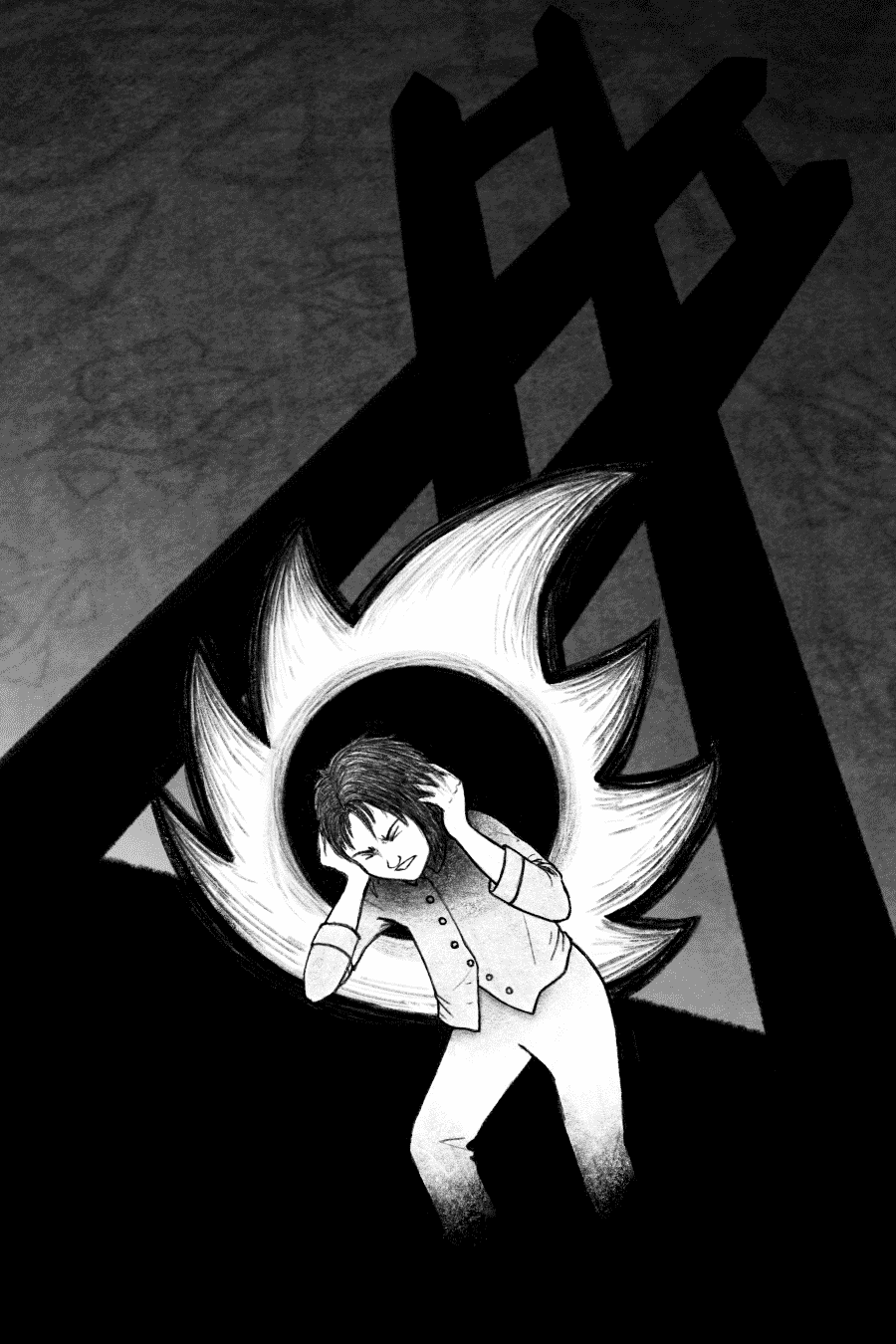 It wasn't long before my anger dulled again. I settled into a routine – not a routine that I liked, but a routine that kept me moving forward. An awkward compromise that no part of me was really okay with.
The Paths were nothing I hadn't seen before. It only took about half of me to focus on the Stern God's grind. The other half was free to wander, to bend back and linger over what I had just done.
I saw my blade sliding into her flesh. I saw my deathblow erased as if I had never even touched her. I heard her voice, purring in my ears, stirring my feelings into something I couldn't understand, something I couldn't handle understanding.
How…? How…? How…?
How had this all gone so horribly wrong? I had only done what I felt like I was supposed to! Wasn't it RIGHT to destroy the Farseer? I'd thought it was the one thing I knew for sure! And I had finally tried to do it! I should have been happy. Why did I only feel all this guilt and fear? Why did nothing happen?
Tears poured from my eyes, streaking my face as I trudged on. How did this happen?! I felt like I couldn't understand anything anymore. Everything I believed in was lying in tatters. She was the one person I loved in all the world, and I had cut her down like she was nothing. I had finally done what I came here to do, what my heart was depending on, and it had been wiped away like it was meaningless. And somehow I felt relieved? How could it be a relief to fail? How could I be content to lose everything?
I walked and cried, cried and walked. I felt gutted and beaten down, too exhausted to even parse out which parts were me and which were the Blood God.
Hours passed. I turned from the Imminent's Path to the Alchemist's, and then later, back to the Imminent's again, working my way diagonally towards the center where the portal was. The guilt settled lower and lower in the pit of my stomach. I barely saw a reason to keep going. I was only going this way because Yali said so. And if Yali said so, there had to be a reason for it. Yali always made sense. Not like me, who just felt like shit all the time and couldn't stop myself from hurting people and couldn't even figure out what I wanted.
And had stabbed her…
I swallowed. I swallowed again. I felt sick and confused. But why should I feel confused? It was all obvious. What I had done… It was so wrong, so obviously, sickeningly wrong. How could I be confused about that? How had I not known why I felt guilty?? Of course I should feel guilty!! I had tried to fucking murder somebody!!! My own girlfriend!! I reared back to punch the nearest wall, and only my memory of the pain held me back. I tore at my hair, my head spinning, guilt gnawing at my stomach again. I was the WORST person in HISTORY! I stomped along the path harder and harder, hoping the pain that echoed up through my legs would be enough to make me suffer for what I'd done. I didn't deserve Yali. I didn't deserve Alchemist. I didn't deserve for anyone to care about me. I should suffer.
Suffer.
My stomping carried me forwards, step after step, blind to everything around me. Before I knew what was happening, I was in the next intersection. I had almost forgotten where I was going, but I was nearly at the end. I had come to the Blood Child's Path, the second-to-last part I would have to walk.
I stomped over to the doors. As always, the statues stood above me, demanding my submission before I could enter. Admit that you are worthless, they seemed to be saying. "Fine!" I screamed. "I am worthless! I am worth NOTHING!"
The statues stood there disapprovingly. Too much pride, they emanated at me.
"Isn't that what you want?! I am horrible! I am no better than a murderer! Let me through! I have no pride left to throw away!" But the statues were motionless. They repeated their judgment, even stronger this time: Too much pride. I screamed and struggled, trying hopelessly to push my way past, blaming myself for everything I could think of. But they just stood there indifferently.
Finally, I went limp. I was exhausted and empty. I would never make it through.
As I slumped against the statues, my mind blurring out, a little more of their demand seemed to filter into my head. But it hadn't changed. I had just… seen it from the wrong angle. They were not asking me to call myself worthless. They were asking me to call myself… not important. And all my guilt… to the Stern, even that was a type of pride. If you said you were guilty, you were saying you mattered. If you shouted that you deserved to suffer, you were making your own suffering more important than anyone else's. And to the Stern, that was yet another corruption that needed to be cut away.
"I am… not important," I whispered, tears spilling from my eyes again.
The statues pulled aside, letting me stumble through.
My lie weighed heavily in my chest. It wasn't just against the Stern God's rules. It was a betrayal of myself as well. No part of me could accept the Stern God's message. I WAS important! I would NEVER accept someone trying to wipe my heart away! I would KILL and KILL – and that made me HORRIBLE and – but I HAD to – it was the size of the WORLD –
But every time I reached out to the extremes, the next set of statues was there to force me back. They interrupted my thoughts, forcing me to say that I was only somewhat flawed, that my struggles were only a small part of the world. In my head, I denied it. But it somehow wormed its way into my mind, making me doubt myself. Maybe it was right. Maybe my thoughts were too extreme. Maybe Yali was right and things would be okay. Maybe I didn't have to kill the Farseer completely…
The Stern God had no right to make me think this way! I could feel its will, I could feel what it wanted from me. It saw how I was tearing myself apart without it, and so it stepped in, pushing me to cut down my own rage until I could live with myself. And the worst part was, it was working. I could feel the Stern God's message holding back the pain, saving me moment-after-moment from exploding and smashing my body against the walls. But I was only being held back. I could feel myself stewing inside, waiting for the moment when I wouldn't be held back, when I would tear everything apart again.
By the time I looked up and saw the next intersection, the end of the Blood Child's path, I barely had the energy to think. My mind felt overburdened, crushed under the weight of compromising with the Stern God's demands.
The next place I would walk, the last place I needed to walk… it was the Alchemist's Path. I stepped up to the mass of jumbled statues blocking the way. All I would have to do was order them to move, like before. But when I thought of doing it, it just felt like too much effort to even think about. I turned and leaned my back to a wall, then sank down to the floor, fatigue crowding out all my thoughts.
I don't know how long I sat there. Fragments of thought floated through my head, dreamlike images I couldn't explain. My body drowning in the void, sweltering flesh around me, Yali's flesh, clinging onto her, she wasn't there, she was laughing and pointing at me, the Watchful Eye on my chest, a lance through my chest, dying, living again, running for joy through the grass, the grass taken away, falling, a tiny prison, buried in the concrete, dying, living again, dying, living again.
My nameless thoughts were broken by a sound, the hard clack-clack-clack of someone else's uniform shoes on the floor. I couldn't muster the energy to lift my eyes and see who it was. But the footsteps came closer and closer. When their shadow fell over me, I finally convinced myself to raise my head.
I almost didn't recognize her at first. She was wearing the same uniform as the rest of us, instead of her usual armor. But she still had the sword at her side. That was a dead giveaway.
Justicar.
Her voice came cutting through the fog in my head. "Is it true that you struck the Farseer with your blades?"
She was standing just a few paces away. She faced me like a challenger, coldly awaiting my response. Seconds ticked away as I tried to make myself speak. My voice came out thin and raspy. "I didn't want to," I said.
Justicar looked down at me for a long moment, her face unreadable.
"You are not the innocent we were promised," she said.
And then she drew her sword.
Approximate readability: 1.87 (20662 characters, 5368 words, 519 sentences, 3.85 characters per word, 10.34 words per sentence)